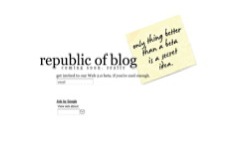 Republic of Blog [http://www.republicofblog.com/]
Republic of Blog is a democratic network of blogs where we emphasize citizenship instead of exclusivity. That is, once it's ready. In the mean time, we're using this space to have a little fun with the Web 2.0 cliches.
update:
Republic of Blog seems to be gone.